Russian River Records Presents:
                David John Raitt 
     Green Wave Productions
      Fantasy Song & Film
 Who is  David  John  Raitt 
David and his bands over the years comprise of fine  singer songwriters and performers  David in most cases is the band leader  lead ,singer guitarist, and songwriter. He also plays Bass, Piano, Flute and Congas, Bongos and harmonica.
David records and mixes and engineers and manufactures his own CD's and videos in collaboration with a team of engineers and video film makers and photograhers and engineers. He has his music in Movies as well as soundtracks for  "the wedding song" in Heartwood with Hillary Swank and Jason Robart as well as several commercial slideshows. 
His most resent release is on you tube.  see link on media page: "Riding High". also  "Yurt homes video" and 20 plus live videos under "David Raitt" see hid yurt company at www.yurtpeople.com 
Currently David tours yearly  in the spring and fall on the east coast primarily in Maine  with  his 4 piece Maine Line Band .  He is in the North West and in Baja and Canada touring  with the Baja Boogie Band for part of the summer.  During the winter he in Baja  with his studio and music camps.  David likes to Ski and fly's to  Canada and to Northern Idaho and Montana , Spokane and whenever possible tires to combine gigs with the ski trips. David likes to regularly  visit  two of his three sons Bay and Arlen in Seattle. David toured with the Baja Boogie band and his youngest son Ely last sumer. Ely is a talented songwriter,singer.  Last summer Ely opened 10 shows  solo. His music  videos can are on Youtube Ely Raitt. 
Relased in 2015 
 Reviews   
David Raitt Maine Line CD     on the Black Fly Tour 2013    
Reviews: There was a distinct ebb and flow to the evening, when I attended an evening of rock by the unforgettable David Raitt. To say that he is Bonnie Raitt's brother is obligatory, but you really need to hear the man play. He is amazing. His bluesy rock comes across as nearly effortless.

Katy England, the maine edge, 2013.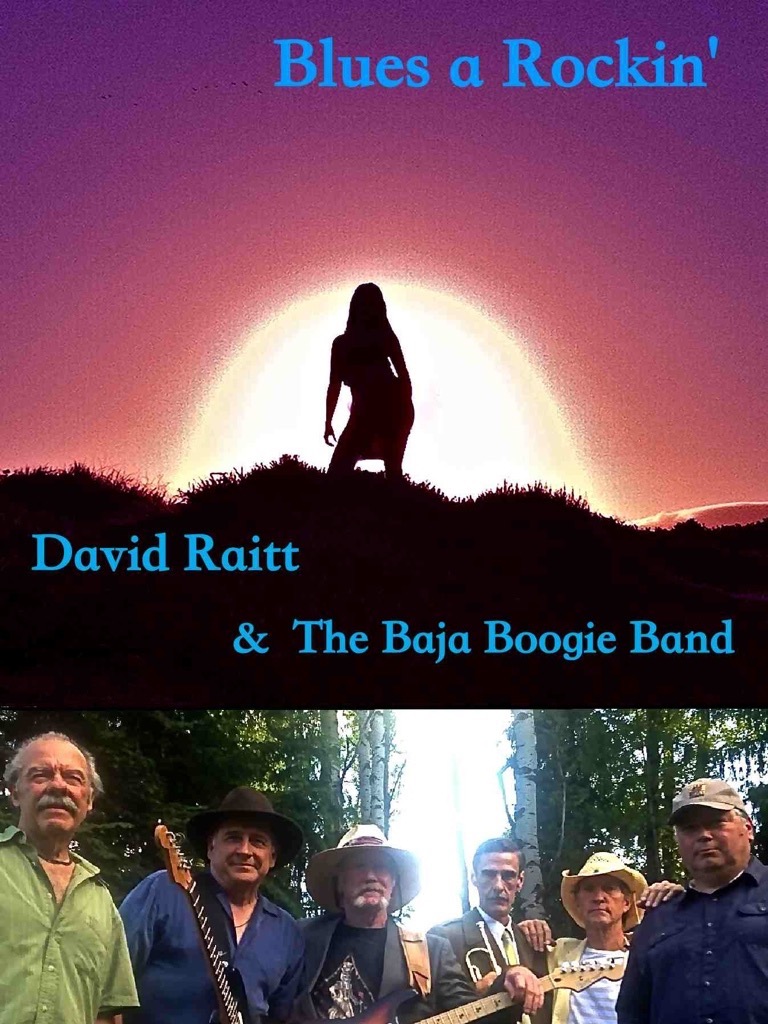 Released in 2014
Quote: "David Raitt and The Baja Boogie Band headlined The Big Sky Blues Festival and within the first few songs the audience was crowded around the stage, the band wowed them with their smooth style of Funky, Blues, Rock." Lorne Riddell, promoter, Big Sky Blues Fest. August 4, 2012

Quote:  "David Raitt and The Baja Boogie Band engaged the audience from the first song through the encore. This was their first performance in the greater Sandpoint area, drawing our largest crowd to date for our concert series." Kevin Mansoor, Ponderay Garden Center, outdoor amphitheater. August 11, 2012
Quote: "Thanks for a great sold out show, people are stopping me on the street and telling me what a great time they had! Thanks again." Karen Forsythe, Di Luna's, Sandpoint Idaho, December 29,  2012.

Quote: "The Baja Boogie Band is a group of highly talented gentlemen, and it was a genuine pleasure hosting them for the first time in Nelson, BC. Their enthusiasm for the music is contagious, and we look forward to working with them again." Paul Henricks, The Royal Concert Hall, Nelson, BC,  January 4,  2013.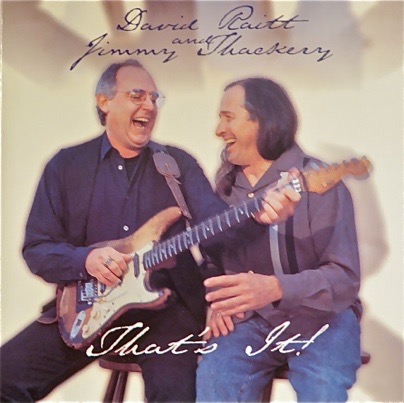 Available at www.riverrox.com

"What a killer combo! Reunited for the first time since their high school blues band, Jimmy and my brother David notch each other up and have a blast doing it on this slammin' record.  Jimmy's always been one of the greatest blues guitarists and my brother David's right up there with him on those kickin' vocals."                - Bonnie Raitt

David Raitt/Jimmy Thackery
That's It!
Blue Rock'It  Records                     
A marvelous soul vocalist, David Raitt teams up with guitar killer Jimmy Thackery on That's It! Reunited for the first time since their high school blues band, the two middle-aged blues hounds get down to business on rough Chicago-styled offerings like their original "Tell Me," Mack Rice's jivey classic "Cheaper to Keep Her," Roosevelt Sykes' "Driving Wheel" and the funky Michael Bloomfield-Nick Gravenities tune "Me" along with Stax/Volt-styled R&B fare like "I'd Rather Be Blind, Crippled and Crazy." Thackery is in particularly aggressive form on his slow blues "Watch Your Back" and on a raw, nasty rendition of Howlin' Wolf's "How Many More Years," on which he also summons up a most menacing Wolf imitation on vocals. And Raitt swoops and swoons like a sanctified canary throughout. These two make a formidable tag team of the blues.
That's It is a recorded document of a very special friendship as well as a superb rhythm and blues recording in its own right.  I would not hesitate  recommending this recording to anyone who enjoys old fashioned R&B, flavored with a little taste of the blues.
David Raitt      Take a Chance   debut CD 
David first played bass with me when I started out years ago. He's sat in on my shows on everything from harp to flute and congas. I'm so glad to finally be able to contribute something to his music. Bringing in our Dad and brother Steve so we could all do something together was so special. Thanks Dave.We had a blast. love,  Bonnie 

1996 Debut Solo Album with Garth Webber, Spencer Brewer, The New Mendocino All-Stars and David's brother, Steve, sister, Bonnie and father, John; Green Wave

The multifaceted  musician plays drums, bass, flute, guitar, harmonica and sings wonderfully on this treasure trove of 12 songs.   Hailing from beautiful Mendocino county, Raitt designs a mixture of country, blues, folk, rockabilly and west coast swing. It is apparent on this release that the Raitts believe in each others talent.  Bonnie's exquisite bottle neck guitar is an integral piece in the sculpting of  David's tune, Beans and Rice. Homeless illustrates his social consciousness.  Late For Me has a line dance feel and Too Hot urges a kick-up-the-heels-at-a-local-roadhouse attitude. The ballad Over Me conveys the value of compatibility and gentleness in relationships.  Skip, Laugh and Play is a hit-the-road, horseback-in-the-mountains kind of song. Spin Down the Road has an early Allman Brothers Band feel about it.                                       -Rock Love magazine
Yes, he's the son of the Broadway musical legend, John Raitt. And yes, he's the brother of the blues influenced star, Bonnie Raitt.  But that's not the reason David Raitt is so alluring and captivating on his solo debut. This man has talent.        Review in JazzTimes by: Bill Milkowski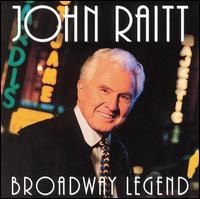 My  Dad's CD  with Bonnie is fantastic. -  david raitt
Available at Russian River Records www.riverrox.com
Edge of the Forest   A Green Wave Production Release
Russian River Records Web Site      for more about David
http://www.riverrox.com/artists/raitt/old_raitt.html
For purchase and sound bites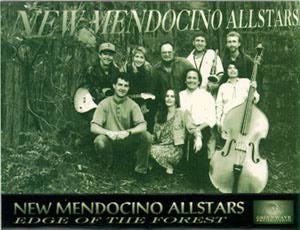 The New Mendocino All-Stars and Special Guest Bonnie Raitt; 
"This collection represents a wide variety of great, homegrown music from some of Mendocino's finest local musicians. On this wonderful record, the All Stars have  a really unique blend of singers, players and songwriting that really captures the spirit and soul of Mendocino county. It was a real treat to be a part of this project, especially as it will also help raise awareness and support for the protection of our beautiful forests. I suggest you kick back and check it out.      Bonnie Raitt   

                               Boys & Girls Club Vol.1
                             This Club Rocks!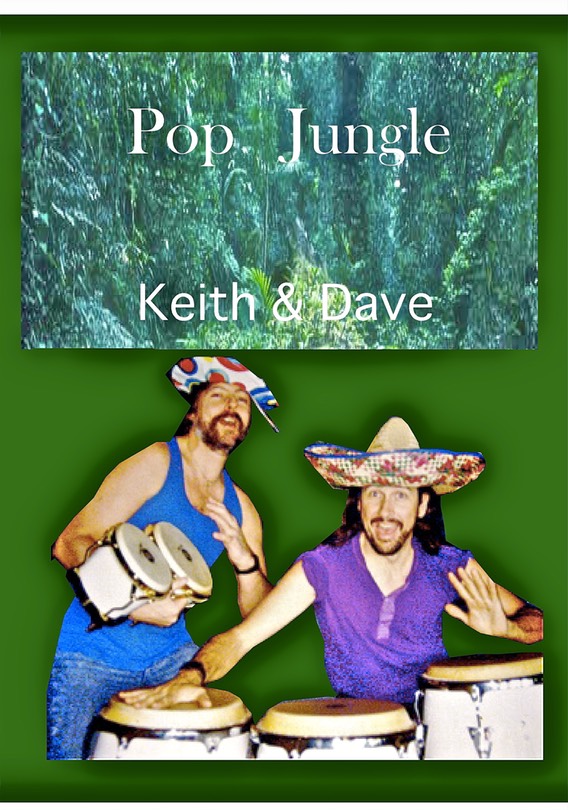 Kieth Gaudette and David Raitt 
with guest Bonnie CD 2005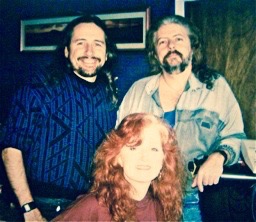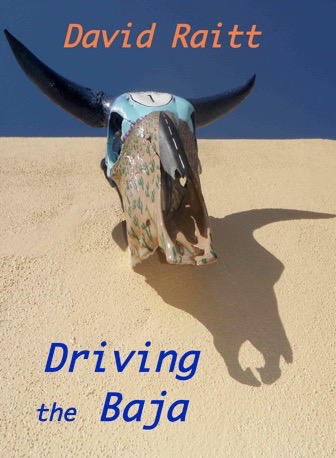 David's release 2007
David and Marilyn DeFRange 
Dedut CD 1999
History:      
              2013     Blues a Rockin   The Baja Boogie Band 
         2014     Best Of David Raitt   2 cd set  2014
        2015     THe Maine Line   David Raitt & the Maine Line 
                 Digs Music in Ukiah  and  on line CD Baby                     
For additional info and to hear David's bands     got to: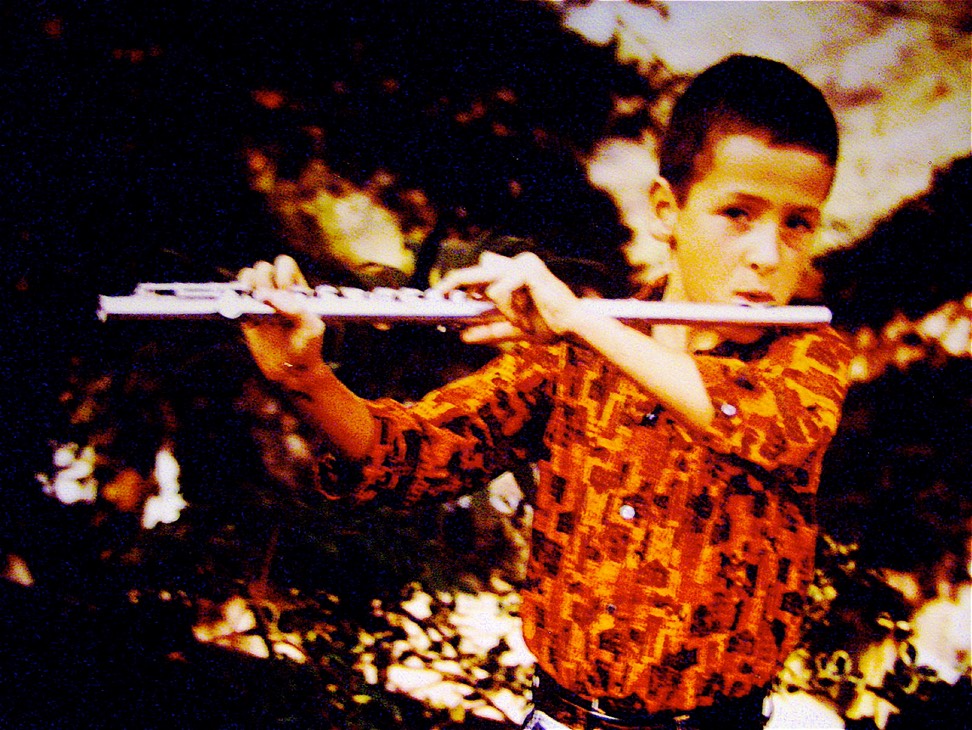 For   Bookings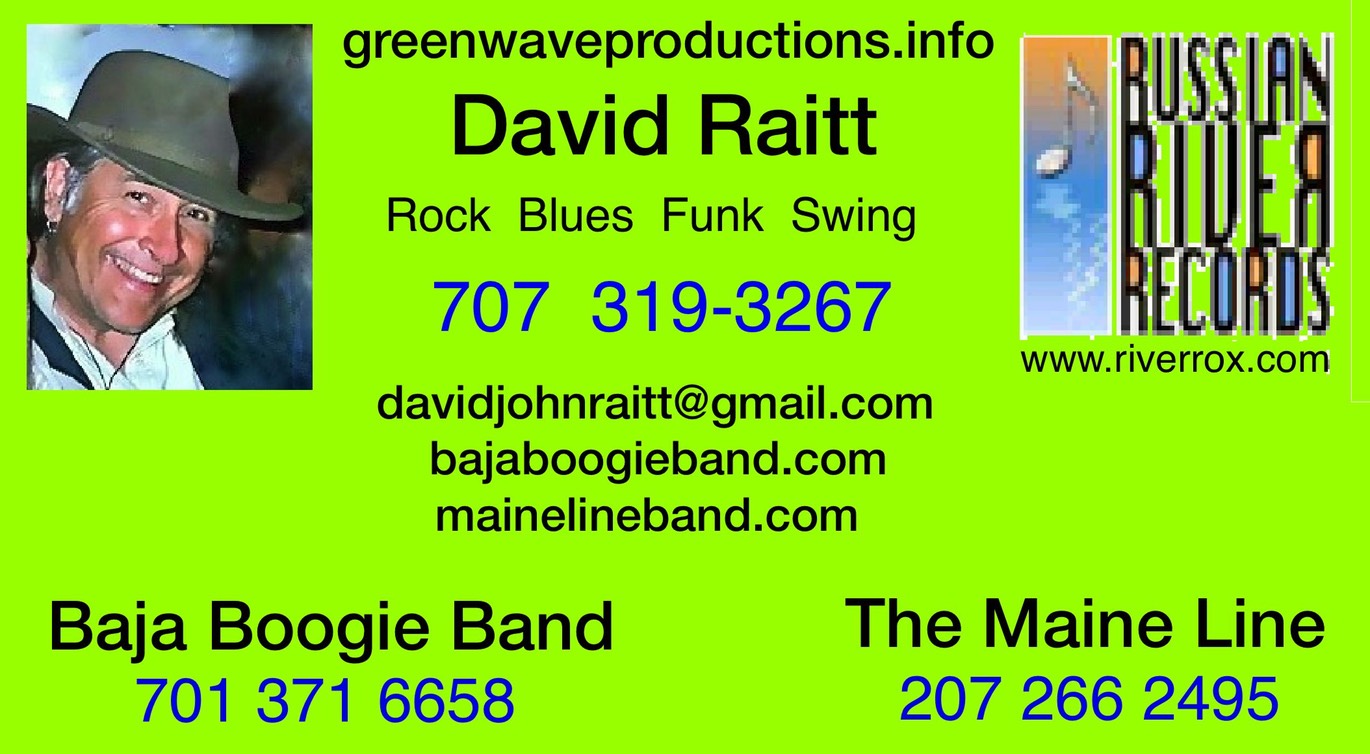 Dave Hutcheson                        Joel Mann 
   West Coast  manager           East Coast Manager